What's inside The Ultimate First Year Bariatric Bundle?


PRE-SURGERY CONTENT: 
Videos and downloads to prepare you mentally for surgery.

Includes a template for a 1-year letter to yourself.


THE ESSENTIALS:
Menus/meal plans for each of the texture phases after surgery

Liquid menu

Puree menu

Soft food menu

Regular food menu

**Includes gluten-free and lactose-free versions of menus.

In depth explanations on how to prepare your foods for each menu/meal plan

and tips for transitioning through the textures.

Videos and tips on how to manage common digestive and tolerance issues

(i.e. nausea, vomiting, heartburn, constipation, diarrhea, difficult foods, dumping syndrome, etc.).

Videos and downloads on protein

discussing the importance of protein, how to calculate your estimated protein needs, how to choose protein supplements (i.e. protein shakes, protein powders, protein bars), and a protein food list.

What you need to know about caffeine, carbonated drinks, and alcohol.
A discussion on why you shouldn't drink while you eat!
Videos and downloads explaining common complications after surgery

and when you should contact your surgeon.

Videos and downloads on the recommended vitamins and blood work

after surgery so you can self-advocate for yourself at appointments with your team and/or family doctor.

A discussion on hair loss after surgery.

Why it happens and what you can do about it.


YOUR TOOLS FOR SUCCESS:
Visual guide:

How to build balanced meals

Visual guide:

How to build balanced snacks

Weekly meal plan template
Workbook:

7 days of intuitive eating

Workbook:

How much have I changed since surgery?

Workbook:

The complete bariatric self-evaluation questionnaire

7-day menu

(with recipes)

Weight stall/plateau checklist
Patient favorite recipes
Meal inspiration lists
Sweet and salty snack lists


BONUS DOWNLOADS:
Poster:

The golden rules after bariatric surgery - A printable reminder of the basics!

Poster:

The 5 mindset shifts needed after surgery to be truly happy - How many have you embraced?

Poster: Hunger/fullness scale

- Head hunger vs stomach hunger? Reflecting with a hunger and fullness scale is a great way to tap into your body's signals and fine tune your portion sizes.

Calendar: Monthly goal and progress calendar

- Setting monthly goals and tracking them daily is a great way to focus in on an old behaviour or habit you feel ready to tackle.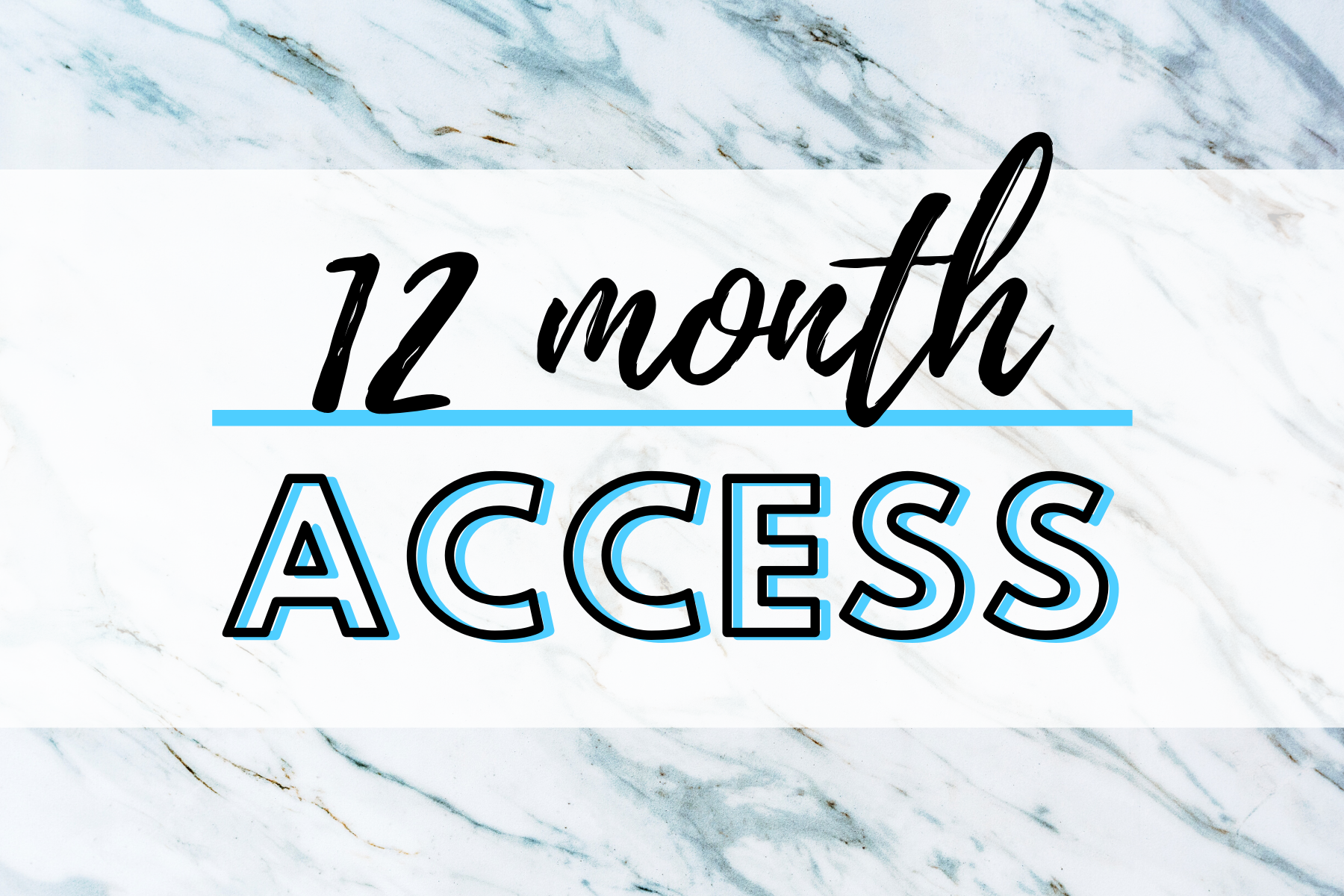 12-month ACCESS!
We've packed The Bundle FULL of content targeted at the first year after surgery. We want to set you up for long-term success!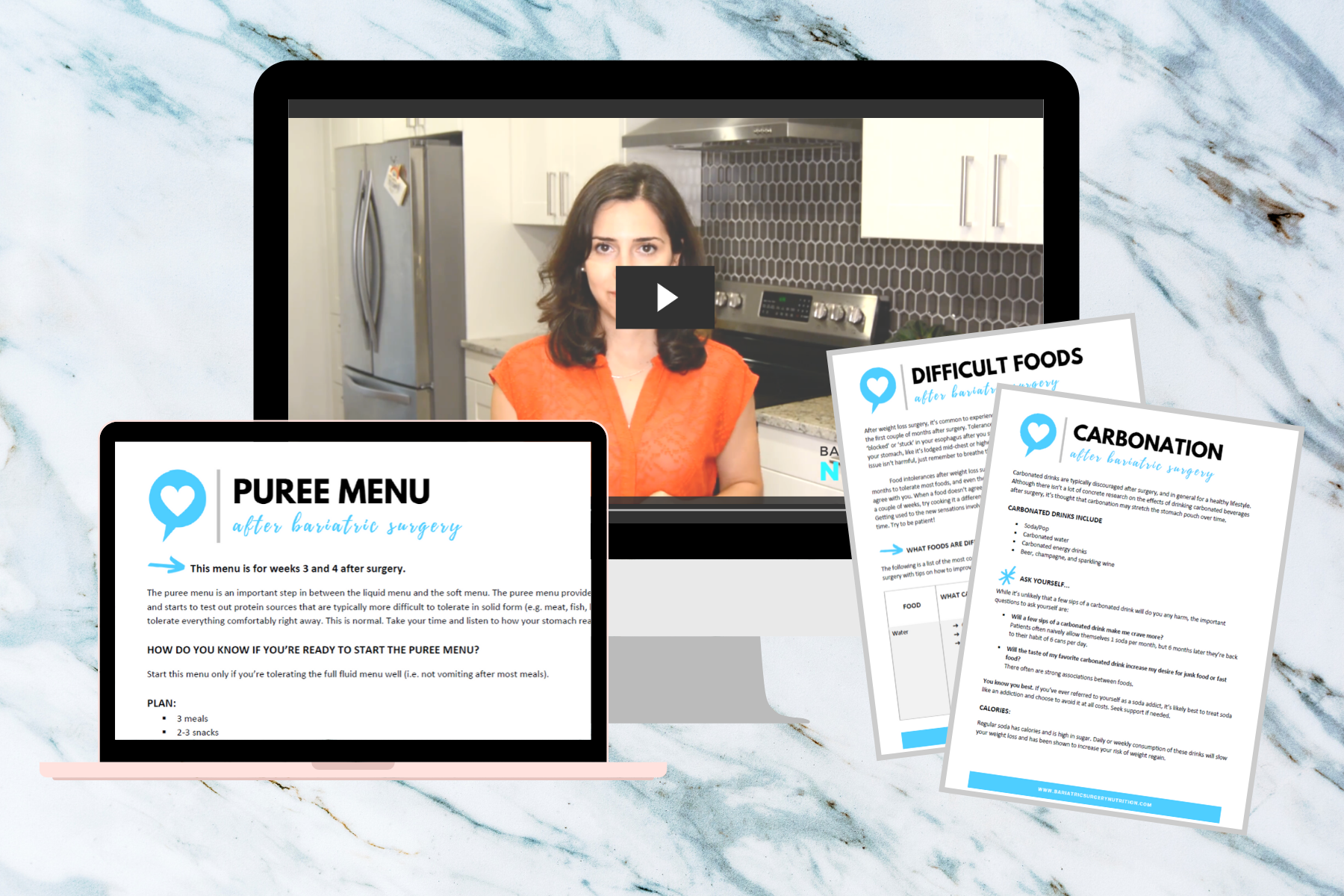 Videos AND Cheat sheets!
Because we know that not everyone likes to consume content the same way. You decide how you want to learn!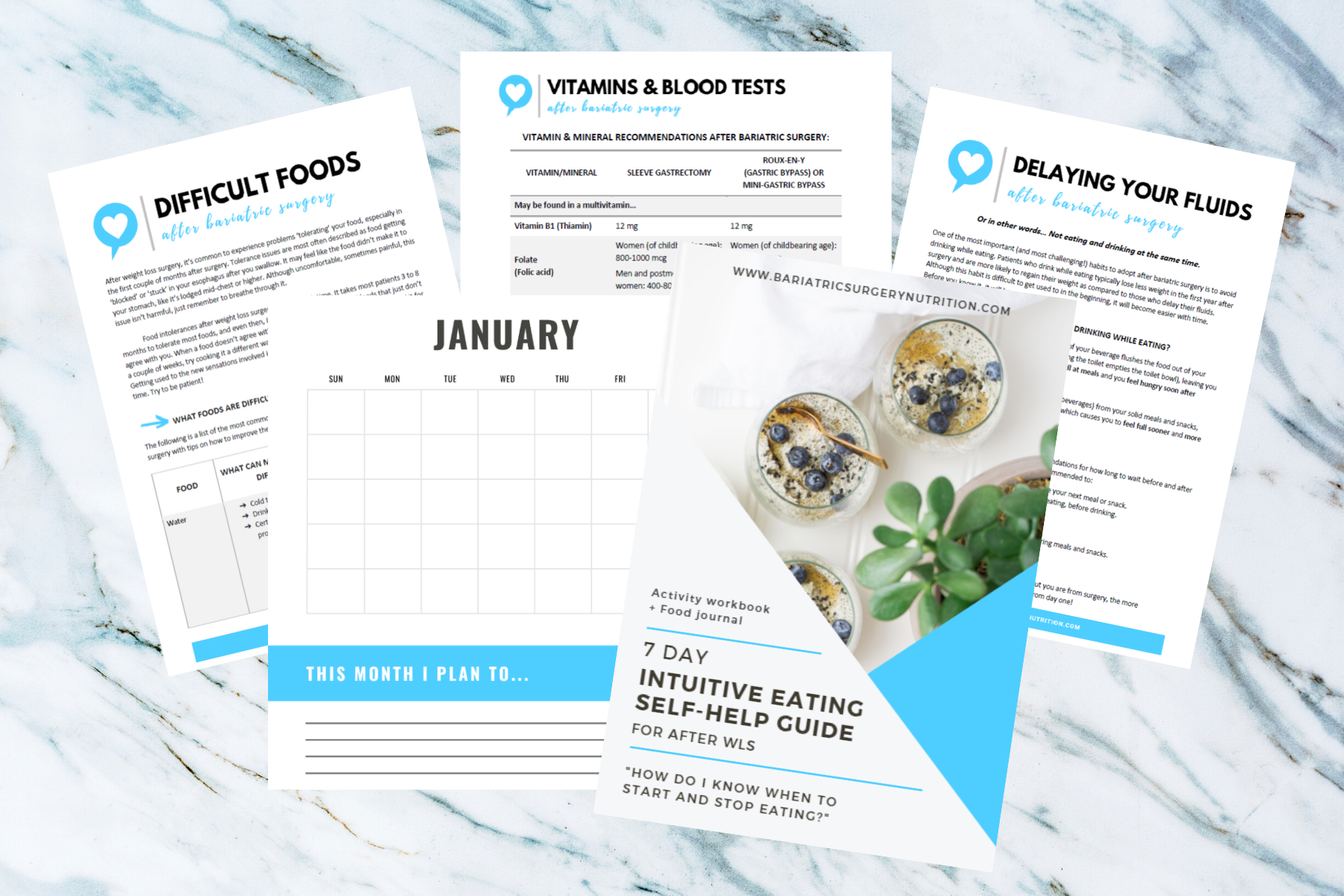 Access ALL content right away!
Digest the content at your own pace, on your own time, as it matters to you. We're not holding anything back!
You know why our Bariatric Bundle exists?
Because as bariatric dietitians with over 15 years of experience in the field, we're DONE seeing patients struggle to find reliable resources to support their journey after surgery. You deserve better!!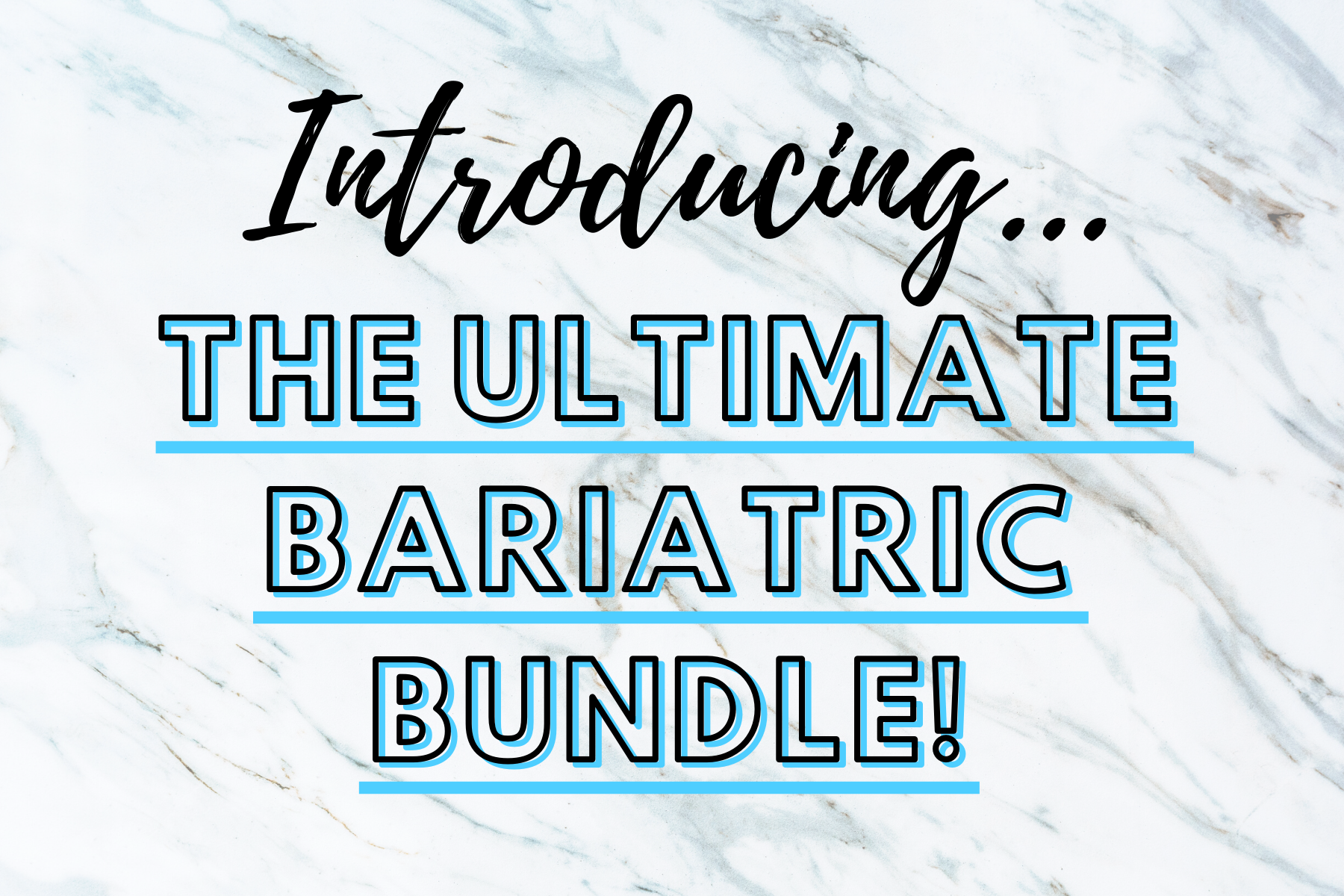 The
most comprehensive collection of videos, summary cheat sheets, meal plans for early post-op, recipes, self-help workbooks, and MORE
, that not only promise to teach you the basics of life after bariatric surgery,
but also empower you to challenge your old food behaviours, inspire you in the kitchen, and build your confidence around food choices!
You DESERVE…


1. A toolkit of resources that walk you through literally EVERYTHING that will come up in the first year after surgery.
2. Fluff-free videos, meal plans for early post-op, checklists, and tip sheets that get right to the point, because we know you guys have busy lives.
3. Workbooks, journal prompts, and other bonus downloads that encourage you to tap into your own inner wisdom, because we all know that re-wiring your automated habits and working on your relationship with food is a big part of the puzzle.
"The Ultimate Bariatric Bundle is an indispensable resource. I started using it one month post gastric bypass, but if you're considering having surgery, it will answer all of your questions to help you decide. The many videos are clear and concise and I have watched several of them more than once. The extra written documentation provides even more info. The list of how much protein is in various foods is particularly helpful. A highly recommended program"!
- Nancy
What makes us different?


The Ultimate First Year Bariatric Bundle was created by
compassionate dietitians with over 15 years of experience
in bariatric surgery. The Bundle is the first of its kind that not only teaches you
HOW your new tool works
, but more importantly
the WHY behind the guidelines
so you can tailor the basics to
YOUR lifestyle
and
YOUR preferences.
The resources in The Bundle are meant to be INTERACTIVE!!
This is not just another information packet to be filed away for future reference. Oh heck no!


Engage with our content...
-
Print out a
weekly meal planner template!
-
Challenge yourself with our
7-day intuitive eating challenge!
-
Get inspired with our
sweet and salty snack lists!
- Self-reflect
by filling out our self-evaluation questionnaire every 3 months!
-
Download a new recipe
to try!
-
Document your starting point with our template for a
1-year letter to yourself!
***New content added regularly!***
Meet Lisa & Monica - your expert bariatric dietitians!
We can't wait to meet you inside The Bundle :)


Hi, we're Lisa Kaouk, MPH, RD and Monica Bashaw MScA, RD, compassionate and enthusiastic registered dietitians, specialized in working with adults before and after bariatric surgery.
Together, we have over 15 years experience in the field and have counselled over 6,000 bariatric patients!
We created The Ultimate First Year Bariatric Bundle to save you time and to spare you the headache of sifting through all of the misinformation online.
We'll show you where to focus your energy so it really counts!
No more second-guessing if you can or can't eat this, or should or shouldn't try that
after surgery. Everything you need to know to be successful after bariatric surgery is inside the Bundle!
Whether you've had your surgery abroad and need general support, or you've had your surgery locally and you're looking for extra information
and tools to increase your chances of having a successful surgery, our Bundle will be invaluable!
We believe everyone who has had bariatric surgery deserves access to reasonably priced
resources that put YOU in control of YOUR health
. After all, the more you understand about how your new tool works and what behaviours are associated with positive long-term outcomes, the more likely you are to be successful in your journey…
and YOU DESERVE THIS!


See you on the other side :)
- Lisa & Monica, your new bariatric dietitians
After purchasing The Ultimate Bariatric Bundle you'll…
1.
Know
how
to eat after bariatric surgery to
avoid common unpleasant digestive issues
so that you can get back to feeling like yourself again.
2. Learn our simple formula for how to create balanced meals and snacks
so that you consistently meet your protein goal while still eating a variety of foods.
3.
Feel comfortable eating out at restaurants, socializing around food, and having treats
without fueling the guilt and shame cycle.
4. Be empowered to challenge your old food habits and eating behaviours
so that your success is not just short-term, but life-long.
5. Understand the why behind the basic bariatric guidelines
so that you can confidently tailor them to your lifestyle and preferences. No more cooking separate meals for the family!
The Ultimate Bariatric Bundle is PERFECT for you if…
1.
You're either
preparing for bariatric surgery
OR
you're in your first year after surgery
.
2.
You either
had surgery abroad
OR
you had surgery locally, but you're looking for even more support
.
3.
You're searching for
reliable, useful tips and resources that you can feel confident in
, because you just don't have the time to be spending hours googling all-the-things!
4.
You're
feeling confused and overwhelmed by all of the "rules" out there
.
5.
You're truly
ready to work on your relationship with food and want to embrace this fresh start
so you can start living the life you were meant to lead!
If you've made it this far, you owe it to yourself to snatch up this value-packed offer.
You have questions. We have answers.
1. I already have a dietitian at the hospital. Is The Bundle right for me?
Your dietitian can only cover so much in your group and one-on-one sessions with him/her. We know this because we both work at bariatric clinics and we're only able to give our patients around 60% of what we feel they need to know in the first year post-op. There just isn't enough time nor appointments! Most of the patients who have purchased the Bundle also have a dietitian. Our Bundle of resources reinforces all of the basics you've been discussing with your dietitian and team + WAY MORE. 
2. Is The Bundle relevant to all types of bariatric surgery? 
Good question! The content in The Bundle is tailored primarily to the sleeve gastrectomy and the Roux-en-Y (gastric bypass) or mini-gastric bypass. If you have a lap band, the majority of the content is still appropriate. Similarly, if you've had a duodenal switch (BPD/DS) or SADI procedure, the majority of the content is still relevant, however it will be important to clarify your higher protein needs, higher vitamin needs, and recommended blood work with your surgical team.
3. I have good support in online forums and/or at in person support groups. Why do I need The Bundle?
You will still find a lot of value in The Bundle. Remember that your peers are simply sharing their personal experience. What worked well for them, won't necessarily work well for you. We also feel that it's important to reflect on your progress and habits individually in the workbooks we've created.
4. I've done my research and I'm doing fine. Is it worth purchasing The Bundle?
We're happy to hear that everything is going smoothly for you! If you're truly happy with your progress and don't have any questions, it doesn't sound like you need any major additional support right now. That being said, extra information and resources never hurt! You likely would still benefit from the "Your tools for success" section as you can never have too many recipes and new meal ideas. Also reflecting regularly with our workbooks will help you stay on track.
5. Can I speak with you before purchasing?
Absolutely! Email us ([email protected]) and we'll be happy to answer your questions by email or set up a time to speak on the phone.
Sample our introduction video...
If you're currently preparing for an upcoming surgery, this is a great overview. Enjoy!
A more detailed list of what's awaiting you inside The Bundle: